Happy Monday morning! This is the fourth week that I will be participating in the
Weekly Chase
. This was started by Melissa over at
Live, Love & Run
I have really loved being part of this weekly following of ladies setting goals.
Last week my goals were:
#1.
Do a plank ladder a day!
I have accomplished this goal! I feel so good doing these plank ladders. I have my kids joining me and my husband joined me last night. I also have made it to the TOP of the leader board for the month over at FU Diet Check it out:
Leader Board
Every night I have completed 6 minutes worth of planks! I encourage everyone to try them for a week. At the end of the week, you will notice a difference.
#2.
Be mindful of my eating.
I did pretty good this week on my eating. No cookies at bed time. And I made some smart choices. I can always do better, and plan to do so.
I feel like this past week was successful.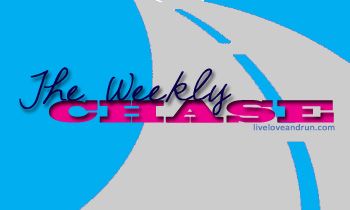 This week my goals are:
#1 Write my Bio for the #Sweatpink ambassador site and actively blog. I have been so busy at work, I have not been blogging like I wanted to. I need to come up with some plan for blog posts. I also want to check in with other weekly chasers in a more timely manner.
#2. Continue Plank Ladders, I feel so much stronger in my core.
#3. Eat more fruits and veggies this week. Its time to really focus on healthy choices.
I hope all of you have a great and healthy week!! And to end the post, a little Ryan Gosling encouragement :)