Happy Monday morning! It's a beginning to a new week, time to start fresh. Great things are going to happen this week. With a new week brings a new Weekly Chase! Many thanks to Melissa over at
Live, Love & Run
for starting this weekly posting. It's a way to get our goals out there, they are public and now we have other bloggers here to help support us! Being a new blog, I need all the support I can get. So here goes week 3....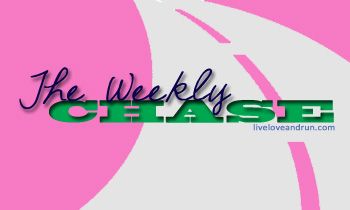 Last week, my goals were:
#1.
Swim laps at the gym! I bought the 1-piece suit (its so not cute) and the goggles. Now I need to use them.
Goal accomplished! I did get some swimming in. It was a lot harder than I remember, but I managed to swim 18 laps.
#2.
Be positive at work.....
Again, Goal accomplished! Woo hoo! It was a busy week, no lunches and we even worked until around 8 pm on Friday. But we got our work done, we are well prepared for the busy month ahead and we did it with a little bit of fun! I really am lucky to have some great co-workers!
This week my goals are:
#1.
Do a plank ladder a day
! What is a plank ladder? Well, I posted about it earlier today, but it's a progression of planks with 30 second rests in between. So you plank: 30 seconds, 40 seconds, 50 seconds, 60 seconds, 60 seconds, 50 seconds, 40 seconds and 30 seconds. Bam! That's 6 minutes of planking in 1 day! I started yesterday and will finish up Sunday!
#2.
Be mindful of my eating
. If I really want to lose weight, tone up and get lean, then why am I snacking on Star Crunches @ bed time??
Well there you have it! I hope all of the other Weekly Chasers had a successful week last week and is ready to tackle this week ahead!