It's Monday again! This is the fifth week that I will be participating in the
Weekly Chase
. This was started by Melissa over at
Live, Love & Run
I have really loved being a part of this weekly following of ladies setting goals.
Last week my goals were:
#1 Write my Bio for the #Sweatpink ambassador site and actively blog. I accomplished this goal! I am working on writing more informative blog posts.
#2. Continue Plank Ladders, Totally accomplished this goal
#3. Eat more fruits and veggies this week. I made a big effort towards this goal, so I will say it's accomplished.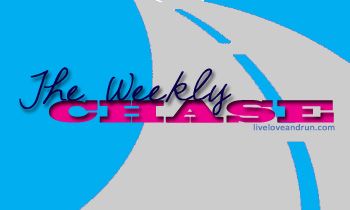 This week my goals are:
#1
Dedicate some quality time to my husband!
He deserves it, and has been asking for it. I purposefully have my runs and gym time scheduled for a time that does not interfere with family time. But I have been bad about having my nose stuck in the laptop. I have to make a huge effort to limit the laptop time and have better time with Joby.
#2
Develop a plan to get back to studying for the CPA Exam
. I let this get away from me and failed to dedicate myself to a schedule. I have to take this more seriously!
#3 Continue my scheduled runs and get back to the gym at least 1 time for power-lift. Also finish the month out with plank ladders. Im at the top of the board, so I want to finish the month out.
There ya have it! I hope everyone has a productive week. I can't wait to read everyone's goals!! (And I just can't resist another Ryan ~ Hey Girl!