Is it really Monday again? I have been so thankful to be participating in the
Weekly Chase
. This was started by
Melissa over at Live, Love & Run
I have been introduced to a lot of great bloggers through this post and love reading everyone's goals for the week and then checking in the next Monday to see how they did!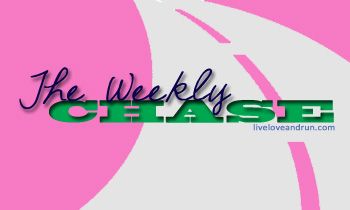 Last week my goals were:
1. Develop a plan to get back to studying for the CPA Exam. take 2! Well I have a plan, that I will be putting down on paper this week. Once I have that done I will share my calendar with everyone. That will help hold me accountable. I figure I did 80% on this goal. I just need to get it down on paper.
2. Focus at work and get 'er done! Goal accomplished. I feel a sense of relief knowing that Friday night we closed the month of July. That means we are mid-quarter and this month should be a lot less hectic.
What's my focus this week??
Source
1. Start the Office Workout that I posted about yesterday and try to get some more co-workers planking with us. If you need something quick to do while at the office, check out my
Office Workout
! I would love for you to join us, and let me know how you do!
2. Participate in
Mindy's ~ Burpee Boom Challenge!
I have never tried to do a burpee, I just hear that people hate them. They are more of a punishment than a choice. Well, that's what some athlete's say about running. Running is their punishment. So it just makes sense that we want to do this. We are crazy!
3. Participate in Operation Beautiful. I first heard about this on another Sweat Pink Amabssador's blog.
Molly over at Miss Molly
I think this is a brilliant idea! I think so many people have negative view's of themselves. Wouldn't it be nice to know a note you left, helped someone see themselve's in a better light? Sometime's the smallest things can mean the most. Help lift someone up!
That's it for me this week! This week I am focusing on particpation and helping other's work toward their goals! I hope everyone has a great week!
In the spirit of the Olympics and hot guys, here is your weekly present from me!

You're Welcome!