I took last week off from blogging life and chasing my goals. I just had so much going on and honestly I wasn't sure that the weekly chase was back on or not. If you have been following my blog, you have seen my Monday posts about chasing my goals. Melissa over at
Live, Love & Run
started the
Weekly Chase
about 2 1/2 months ago. I have participated since the first week. Two weeks ago, she was unsure if she was going to continue the Chase, I am glad to see that she is. It has been very helpful to me.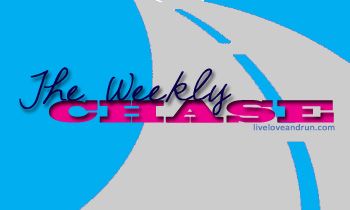 Weekly Chase ~ Goals for the Week
1. Get my eating in check ~ I have realized and known for some time that my eating sucks and needs to be corrected. I have to start doing what I know needs to be done. I am 2 weeks out from my first half marathon and need to properly full my body. All I really give it is junk, so junk is going to be what I get out of it. It's my own fault.
I have been reading the Whole 9 and Whole 30's blog for a while now. I plan to start the Whole 30 on October 1st. Its the day after my Half, so its a fresh start. In the mean time, I am going to adopt some of my meals to be Whole 30 compliant, get a jump start. I am thinking about a Whole 30 challenge on my blog, so check back later.
2. Get all of my runs in ~ This is so important. I have been missing a few weekly runs due to weather, being tired or just not waking up to my alarm. If I can't do it in the morning, I will do it in the evening, or even hit a treadmill if need be.
3. Celebrate Collin's Birthday tonight and get ready for Sydnee's we have 3 birthdays from Sept 15th - Oct 19th! I can't neglect celebrating them. We are doing Collin's present and b-day dinner tonight. He was at his dad's house for his b-day and had his celebration there. So it will be a low key family dinner. Friday night Sydnee is having a sleep over for her birthday celebration. I think they will both love their presents!!
Well, that's it for me this week! I am glad to be back at chasing my goals!!
QOTD: What are some of your goals for the week?
Don't forget to check out my Larabar review and giveaway